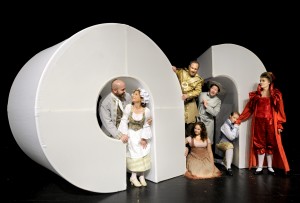 From the moment that audience members enter the Montana Theatre for Montana Lyric Opera's production of "The Marriage of Figaro," it is clear that this won't be a traditional production of Mozart's most famous comedy.
In front of the stage curtain, an enormous, white, lower-case 'r' lays precariously toppled above the orchestra pit – the scantest fragment of an unformed idea.
The orchestra begins to play the opera's overture – itself a series of fragments of musical ideas – and the curtain rises to reveal more letters: an 'a' and an 'e' tilted sideways, an 'o,' and an 'm' laid on its back. As the small but well-drilled orchestra dashes toward the overture's finale under the baton of conductor Luis Millan, a group of people in peasant-like clothing scurry on stage and rearrange the letters – though still into nothing that resembles a word.
Thus the stage is set for a distinctly modern production of one of the most enduringly beloved operas in history, a 225-year-old comedy in which mixed-up words, misinterpretations, and concealment form the very basis of the humor and beauty before aligning themselves into the ultimate meaning of it all. [Read More...]